By Paola Kathuria
Getting to Italy was an adventure.

On the registration day of the workshop, regulars were reunited and joined the newcomers in discussion.

L-R: Peter Thomas, Carina Paine, Markku Tukianen, Lindsay Marshall, Clayton Lewis, Frank Wales, Yang Jun

LR: Alan Blackwell, Jim Spoher, Peter Thomas, Carina Paine, Markku Tukianen, Lindsay Marshall, Clayton Lewis, Frank Wales, Valerio Talarico, Eleonora Bilotta
| | |
| --- | --- |
| | Our accommodation in the Sibari Golf Village… |
| | …consisted of individual apartments. |
| | The next day, Valerio and Eleonora took us on a coach to the workshop venue… |
| | …Corigliano Calabro castle … |
| | … in the old part of Corigliano Calabro. |

| | |
| --- | --- |
| | The castle, once owned by a Duke, has beautiful views… |
| | … and towers. |
| | At the top of the hill, we entered a castle gate … |
| | … climbed the stairs … |
| | … and entered the cool building … |
| | … to find the workshop room, magnificent with a Victorian painted ceiling and chandeliers. |
| | The morning coffee break was mistaken by some as lunch … |
| | … because of the large selection of sandwiches, cakes and biscuits. |
| | We also ventured out into the sun … (Willemien Visser) |
| | … and discussed the first papers. (Jasna Kuljis and Clayton Lewis) |
| | That evening, after dinner, some made use of the piano at the Sibari Golf for some music,.. (Thomas Green) |
| | (Lindsay Marshall) |
| | … dancing … |
| | (whoosh) |
| | … and singing. |
| | The next day began with the paper from one of the invited speakers, Clayton Lewis. |
| | After lunch at a restaurant which served authentic regional food, … |
| | … the afternoon was spent on guided tours of Corigliano Calabro castle … |
| | (Maria Kutar and Thomas Green) |
| | and surrounding areas, |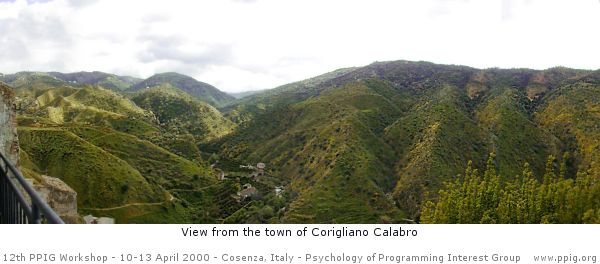 (view from Carigliano Calabro)

(Roof-tops and valley view from the castle)

as well as of the oldest church in the town and an archaeological museum.

The tour involved exploring …

… the castle basement …

… and climbing a spiral staircase up one of the castle towers, …

… to rooms …

… painted different colours and …

… with ornately-painted ceilings.

At the top of the tower …

… there were views over the town mountains and sea.

That evening was the Workshop Dinner, which was attended by the Mayor and Vice-Mayor of Corigliano Calabro.

Discussion was animated at the various tables, as course after course was brought out,

with fish dishes featuring

as well as pork.

The last course was a special PPIG cake …

… which was ceremoniously sliced by PPIG veterans, Thomas Green and Judith Segal.

After the Officials left, we settled down to hear the winners of the workshop competitions.

Christian Holmboe for the Most Languages Used in a Single Question

Françoise Détienne, Willemien Visser & Patrick d'Astous, for the PPIG Culture Club, films and music suitable for PPIG. Their winning entry included American Piecharts and Fried Green Thomastoes

John Pane, for the Design of (not) the PPIG Flag

Markku Tukiainen, for Entering the Golf/Castle Competition After the Prizes had been Awarded

Student Prize prize-winner

Gada Kadoda, for the Most Subtle Product Placement (the first letters of a list on one of the slides spelt DIOR)

Linda McIver, a consolation prize for for Not Having the Funds for a Stats Book

Carlisle George, the PPIG Pianist

Lindsay Marshall, for the person with the Most Honourable Mentions

Clayton Lewis, for Being the Most Overt in Trying to Avoid Getting a Prize

and finally a thank you to Alan Blackwell for Great Workshop Organisation

Carlislie and Linda sang a song written for PPIG.

Clayton Lewis gave a talk.
| | |
| --- | --- |
| | On the final day of the workshop, after a morning of papers, those left headed for the beach |
| | for a closing PPIG discussion in a beach hut. |
| | Some explored the beach. |

| | |
| --- | --- |
| | They joined the others in a discussion about future plans. |
| | When we returned to the Sibari Golf Village, final discussions were underway … |
| | … as people got ready to leave and … |
| | … wait for the transport to the airport. |
Photos and text by Paola Kathuria